04 September 2006
when will you realize, vienna waits for you?*
Take Fall's most sensational clothing, Rachel Alexander (Supreme) and Patricia Schmid's (Marilyn) bowlcuts in a fiery red hue, the city of Vienna, Austria and the comeback of supermodel Natalia Vodianova and you get a truly visually-mesmerizing Vogue editorial!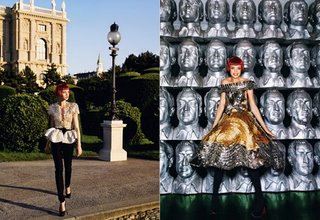 Photos courtesy of Style.com

Rochas, Balenciaga, Lanvin and Marni all stand out in this beautifully gilded, metallic, lustrous and refined story. Shot in Vienna hotspots like the Loos American Bar, Café Sperl, the Spanish Riding School of Vienna and the Museum Fur Angewandte Kunst (MAK), witness the Supernova strolling down avenues in many a voluminous skirt and a sheer bodice.

*What song are these lyrics from? If you guessed "Vienna" by Billy Joel, treat yourself to a day at the spa. On yourself, of course.