23 September 2006
supremely skinny and basically busy
Supreme, the agency known for eccentric, striking girls with the kind of alternative beauty high fashion hankers after is churning the mill and producing girls that, in my opinion, are way too skinny!



Cecilia Mendez

Cue Brazilian find Daiane Conterato (Supreme) and Argentine mannequin Cecilia Mendez (Supreme). Both 5'10" and just way too bony. They walked a lot of shows and stuck out like sore thumbs. I understand Cecilia's slight Hepburn-esque tendencies but I'm very cynical about Daiane's longevity in this industry. But who knows, maybe they will generate a new batch of towering, immensely underweight gaunt girls akin to Gemma Ward's (IMG) rise and the introduction of more doll-like, alienish girls like Sasha Pivovarova (IMG) and Vlada Roslyakova (Women).



Daiane Conterato

Anyway, Spring/Summer 2007 is very muted! I didn't see a lot of color on the major runways. The designers used a lot of neutrals but with an ultimate punch of weirdly cool pieces like the pantaloons at Marc Jacobs and the boots at Proenza Schouler. Check 'em out!






I'm getting ready for my first week of clinicals at Atherton Baptist Homes. I have a quiz on enemas on Monday. Yes, enemas. I think I have three homework assignments to turn in on Monday as well. Tuesday, I have to turn in a seminar article and I have a quiz in Pharmacology. Tuesday and Wednesday are clinical days. Thursday is a whole day of review for Friday's Exam Two. I love my Nursing textbook! *Barfy Mcbarf*

Enjoy your weekend everyone!
16 September 2006
r.i.p. chloë bergman


I learned a few weeks ago that Chloë (the white shih tzu) died of liver disease. Lulu has cancer and will undergo chemotherapy for the next six months.

For real.





I kind of regret missing out on the Festival of Philippine Arts & Culture. Darn. Maybe next year.


I haven't posted in a while. Blame it on the RN Program.
04 September 2006
when will you realize, vienna waits for you?*
Take Fall's most sensational clothing, Rachel Alexander (Supreme) and Patricia Schmid's (Marilyn) bowlcuts in a fiery red hue, the city of Vienna, Austria and the comeback of supermodel Natalia Vodianova and you get a truly visually-mesmerizing Vogue editorial!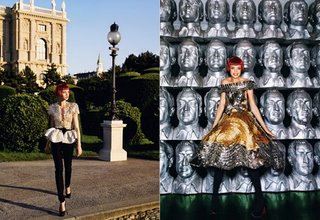 Photos courtesy of Style.com

Rochas, Balenciaga, Lanvin and Marni all stand out in this beautifully gilded, metallic, lustrous and refined story. Shot in Vienna hotspots like the Loos American Bar, Café Sperl, the Spanish Riding School of Vienna and the Museum Fur Angewandte Kunst (MAK), witness the Supernova strolling down avenues in many a voluminous skirt and a sheer bodice.

*What song are these lyrics from? If you guessed "Vienna" by Billy Joel, treat yourself to a day at the spa. On yourself, of course.